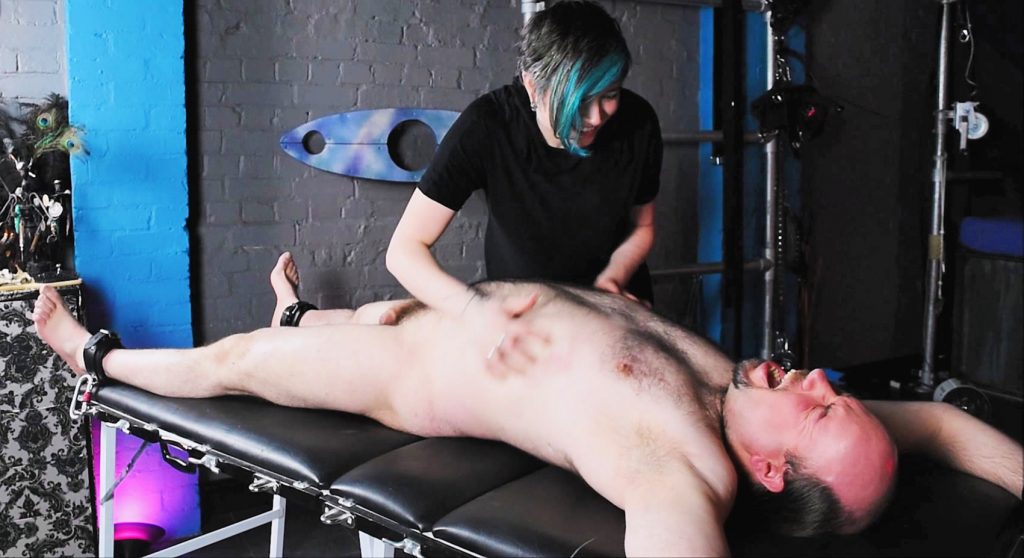 What is a tickling fetish session?
Tickling is a unique form of control and torture that is often enjoyed by those who have a tickling fetish. It can feel utterly overwhelming and cause you to loose complete control of your body within a few minutes, but then the second the act has stopped it is over. It's not like other overwhelming BDSM activities such as pain where you continue to feel the sensation for potentially days, or edging where there it takes a while to dissipate. Even bondage takes a while to be released from. With tickling it can be the absolute end of the world, can't-handle-this, going-to-explode levels of intense torture, then literally within seconds of fingers being removed, it's over.
Plus it's so easy! You don't need any expensive specialist equipment. You can do it on any bed that you can attach some basic restraints to, or of course dungeon equipment if you want more strict bondage. Tickling is also very low risk; provided you're bound so you can't hurt yourself or me, there really is very little that can go wrong. As it is so low risk, tickling fetish is one of the very few types of session I'll do without a safeword before getting to know you very well.
You know what I love most about tickling sessions though? I love that you can be having a terrible time, really hating every second, but still be laughing your head off. I love that you can be suffering so completely, whilst looking like you're having the hysterical time of your life. This will always make me laugh.
What is a tickling session like?
Tickling sessions are generally very fun and light hearted. Once you're naked and bound I'll start gently exploring your body with my fingers, finding where your most sensitive spots are. I'll leave no area undiscovered, from the top of your scalp to the soles of your feet. I will explore your chest, armpits, stomach and lower. I'll explore all the way down to your feet, passing quickly and gently at first. Then I'll zero in on my favorite spots. I'll experiment with speed and pressure, giving you occasional breathers, and pushing you into a frenzy. I will show you that I have no mercy.
One of my favourite things is to straddle you when I tickle you and ride your body as it bucks and writhes uncontrollably between my legs.
For most people being tickled is extremely erotic, and I will take particular delight in watching your cock bouncing around whilst you writhe uncontrollably. I will even tickle that too if it's proving to be responsive. A tickling session might end when you're exhausted, or sometimes with orgasm.
Tickling is one of the very few activities I occasional switch for, and I am extremely ticklish. I don't do this with people I don't know and trust, so don't expect it on a first session. I will only offer if you have been the very definition of polite respect.
What other BDSM elements go with tickling fetish?
Often people who have a tickling fetish are not into other aspects of BDSM, so our session can just be pure tickling (with minimal bondage). However, if you do want to explore other things alongside it works especially well with edging as both activities force you to give up control. It works well as part of a sensual domination session, tie and tease, or as part of a longer bondage session. Also facesitting, blindfolds, gags and a little bit of scratching or nipple torture can all add to a tickling session.
Light role play can be an element of a tickling fetish session, although this is not required. Let me know if you have a particular scenario you fantasise about. Some scenarios I've enjoyed include: practicing sadistic medical student; cousins reminiscing about their childhood then getting carried away; sadistic masseuse.
See me in action
A clip of me tickling a sub is available to buy from IWantClips. You can enjoy the preview gif below. Click on it to go to the store and buy the full length clip.
Want to book a tickling session in London?
Has all this talk of the pleasure of tickling left you curious? If you want to book a session with me in my custom North London dungeon then contact me and let me know a little about yourself.