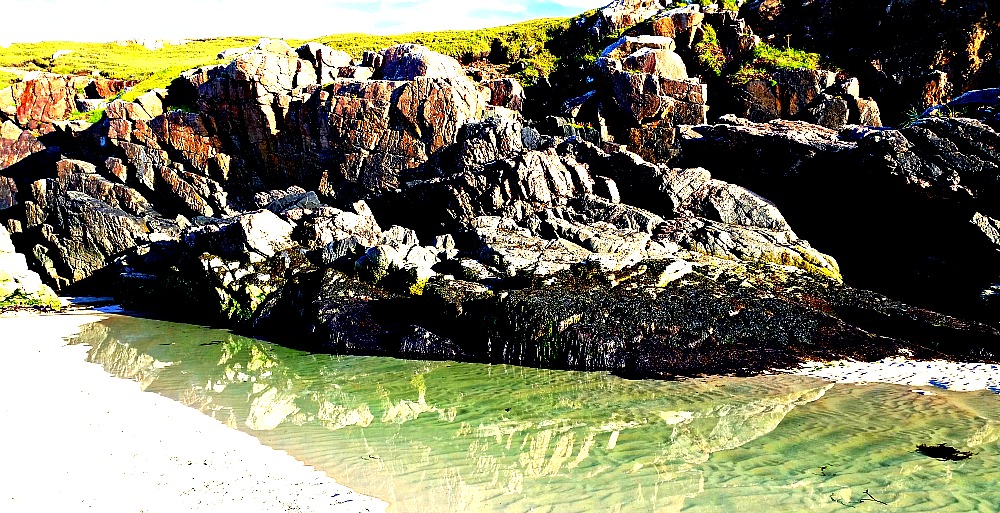 Tuesday morning I woke up around 10am. Again in blissful silence with none of the usual London racket. I walked downstairs to find neatly wrapped presents awaiting me. This was an unexpected surprise. B had ordered a Mindfold and some Neal's Yard moisturiser from my Amazon Wish List. Alongside a magnificent breakfast sandwich of square sausage, bacon and egg, it was a delightful start to our second day.
Keen to continue B's education in caning I bent him over the kitchen table, hoisted up his frilly maids skirt and began to deliver a firm cold caning. I stopped when I was satisfied his arse was stripy enough to hold colour for a while. The greedy thing however asked for more! I granted his request; on the understanding there was no stopping once I started; no safeword. Regardless of how much harder I went, the fact alone that he couldn't stop it would have been working at his head, changing the scene completely.
I had a Skype call scheduled for later that day. I didn't want B overhearing, nor feeling neglected, so I wrapped him up in bondage and a blindfold and left him to drift. My friend got a kick out of knowing I had someone trussed up in the next room as we chatted.
When I went to untie him he had fallen asleep. I woke him, still bound and blindfolded, with a slap. The confusion, panic and disorientation were hilarious.
Adventures
It was a beautiful afternoon so we went out for another adventure, this time to Smoo Caves to admire the grandiosity of the rock outcroppings. This dynamic of D/s partners, but also curious holiday makers was working well. There was always a subtle undercurrent, always a marked level of respect and power imbalance, but at the same time we were two friends exploring; exploring the physical country around us, the physical bodies we inhabit, and the psychological constructs we create. Of course, no exploration is complete without cream tea, and we sat together, chatting about life and watching the sun set over the lochs and mountains: Bliss.
Catch 22
Back in the cottage, I dressed as a country gentleman; all clothes authentic except for a pair of 6 inch platform boots. Naked and cock-caged, B sat on the cold kitchen tiles at my feet. I read through the contract he had spent so long drafting, marking each error. There were 22.
I bent B over the cooker he was getting so accustomed to being in front of. His ass still cold from the floor, I informed him that I would hit him 22 times with the cane, hard. Earlier was just a warm up, this time was for real. He counted. '1 thank you Sir, 2 thank you Sir, 3 thank you Sir'. The pitch of his voice got higher and higher. By 15 his voice was starting to break. I've never made him cry before and hoped this might be the first time. We made it to 22 and I could tell we were close to his edge, but I was proud of him for taking it. I had him kneel on the floor and buckled a collar I'd made from leather around his neck. He was to wear this for the rest of the week, a physical reminder of our agreement. The contract was sealed.
We countered the physical intensity of cold caning with some position training, discovering what positions were comfortable for him with his particular body shape, weaknesses and strengths. We agreed which positions he would take at different times over the weekend.

Dinner Time
Later that evening, whilst B was cooking dinner, his spiked cock cage caught my eye. Unfortunately, he liked this idea rather too much, making it impossible to squeeze his cock into it. In an attempt to remedy this situation I tied a bag of ice to his cock and balls. He hobbled around the kitchen, moaning, groaning and crouching, but still erect. Clearly any attention to his cock was more than he could handle right now.
I took the ice off and left him to get on with dinner. When he softened I instructed him to put on the cage, quickly. Once it was on it didn't take much to tease him, to force the unforgiving metal spikes deeply into his delicate skin. We spoke about exciting previous sexual encounters, about how he liked to orgasm. I rubbed his back and caressed his breasts, squeezing his nipples and pressing myself against him, each action bringing about pain as he struggled to concentrate on making dinner. Seeing his suffering and being a charitable type, I offered him an escape.
Option 1: Remove the cage and stop suffering, but know there will be no orgasms until tomorrow at least.
Option 2: Keep the cage on until dinner is prepared, then ejaculate all over his salad and eat it.
He selected option 2. It had been 8 days since his last orgasm he had stored up a lot of salad dressing. He ate it without complaint.
It had been another full on day. To softly end it I invited him to sit on the sofa with me and we curled up and watched a film.
Find out what happens next