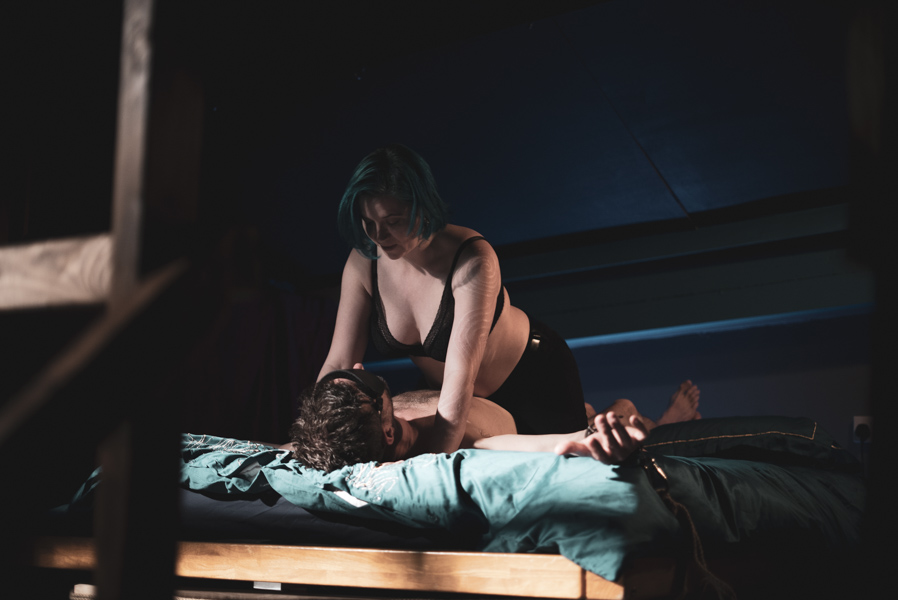 What is sexual edging?
Edging is the act of bringing someone (or yourself) to the edge of orgasm, then stopping or easing off until the orgasm fades back a little, then bringing them back to the edge again repeatedly over a period of time. This can be done twice, three times, ten times or countless times in a session.
Edging often makes up part of a tie and tease session, and you will be in at least minimal bondage. I find very few men can maintain conscious control of their limbs during an edging session and I don't want wayward hands interfering.
Why would a Mistress enjoy edging?
Needless to say it is a massive power rush for me. With a man tied down in front of me, helpless and utterly desperate I am in complete control. The world narrows down to just us; with me in total control of your dick, you will do absolutely anything for me.
It is also incredibly intimate. I get so tuned in to the person in front of me to keep them right on the knife edge before orgasm. I pay attention to every breath, the tone of every moan, every tensing of every muscle and tune my movements accordingly.
A lot of the techniques I use in edging sessions I learned from years of studying Tantric massage and erotic massage with some of the worlds foremost teachers. This makes my edging sessions more than just repeated tugging at your cock, but carefully crafted journeys through ecstasy. Combining Tantric techniques with BDSM makes for a powerful and heady session where you really do completely loose control and I delight in taking you there.
And finally, it's a massive turn on keeping someone so sexually charged for so long. Generally I don't orgasm in sessions, but I often get myself off after edging someone for hours.
What might an edging session look like?
After playing with you a little in whatever ways we've agreed and then tying you down, I'll start to toy with you. I'll play with your cock, build you up and back down. I'll tell you that you're not allowed to cum, and I'll let you know the consequences if you do. Then I'll ask you to let me know when you get close. I like to keep you as close to the edge as possible, so I need to know your individual signs.
I'll take you to the edge and you'll let me know where that is, neither of us want you to cum yet. Once I've got you all figured out I might tell you you no longer need to let me know. I'll take you to the very edge of orgasm and back again and again, riding that edge with you. You'll loose all sense of time and reality. Everything else will disappear.
When watching you desperately writhing stops being so amusing (which takes a while!) I have numerous options: tell you that you're allowed to cum then stop providing adequate stimulation; take your orgasm without giving permission then punish you for it; ruin your orgasm; or if I'm feeling very nice and you've been very good, I might just give you the most intense orgasm of your life.
Depending on what your interests are I might incorporate some nipple torture, breath control, heavier bondage, impact play, CBT (cock and ball torture), genital bondage, tickling, wax play, sensory deprivation… It can be as sensual or as sadistic, as satisfying or as frustrating as we want it to be.
What does an edging session feel like?
It will feel different for everyone, here's what some of my subs have said about it:
Submitting my whole body to you transcends vanilla sex in deep and emotionally complex ways. Finally yielding control of my orgasm was the final act in this story. It was one of the most intense and personal acts of submission I have ever experienced. @binarymale
As a masochist, I try to avoid stop words in play. I don't like to receive mercy when I beg for it. But this? This was different. I begged for mercy and meant it. I really did. I always wanted to be edged, but never realised just how intense the experience could be. Denial. Torment. Sir Claire called it 'sensual domination'. Those two words don't seem enough. The restraints. The toys. Sir's signature laugh as I struggled. Things spiced up with just a tiny bit of pain. Relentless. Yeah, I begged. Did I cum? Well … @kickpunchcrush
What sex toys can be used?
The beauty of edging is that it can be so simple, at it's most basic all I need is some lube, some gloves and some restraints. This is how I ususally conduct edging sessions.
However I just got a wonderful new toy that can do the wanking for me if I feel like it. The Tremblr is basically a masturbation machine with a remote control that allows me to control how fast and how deeply it goes. Unlike my arms, this machine never gets tired. It also frees up both of my hands to caress or torment you whilst it relentlessly bangs away at your cock. It's a different kind of experience, but no less intense.
Book your erotic edging session in London now!
Are you intrigued? Would you like to experience this for yourself? Then contact me to book a session and subject yourself to the most exquisite torment.
If you want to enjoy more fantasies on my website first, you can read about Sensual Domination sessions to see what other delights tickle your fancy
This post contains affiliate links, so I get a few pennies if you buy anything mentioned here. Obviously I would never recommend anything I didn't use and love myself