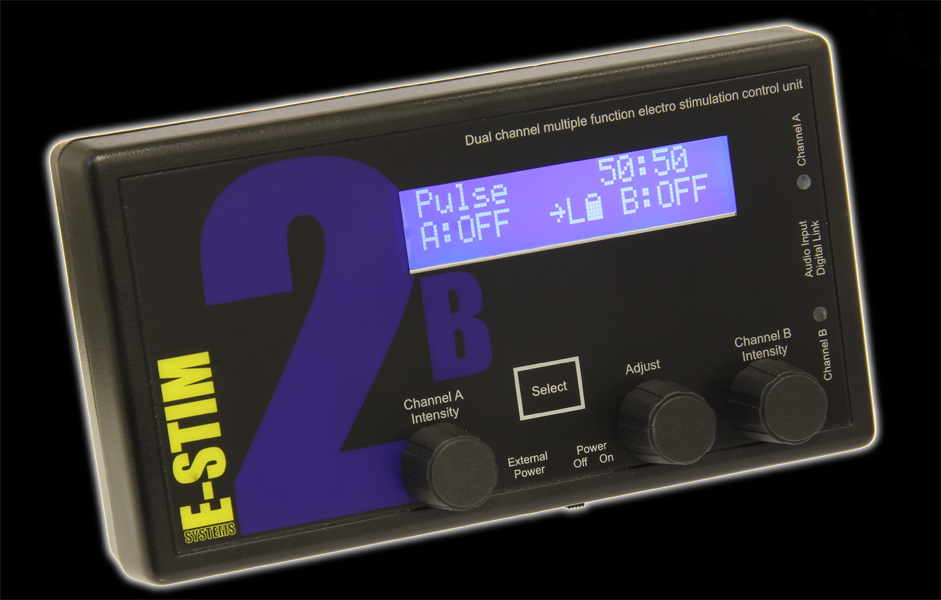 What is erotic electroplay?
Electroplay, also known as erotic electrostimulation, electrosex, electrostim and variants of these is the application of electricity to the body to create sensations of varying intensity. The electric current can stimulate nerve endings or create involuntary muscle contractions. Sensation can vary from a light pleasant tickle sensations through to flesh searing agony, and everything in between. It's a wonderful way to indulge in unique sensations without worrying about leaving marks, and can add intensity and pleasure to many different sexual and BDSM situations.
There are a few ways to achieve this, I will be writing here about using a device developed specifically for erotic play, the E-Stim unit.
History of electro therapy
Electrotherapy has a fascinating history in medicine and has been used to cure all sorts of ailments. From the Egyptians using electrical charges from fish to treat problems, and through the Greeks and Romans.
The Violet Ray (early violet wand) appeared during the early 20th century. It was an electrical system with hollow glass attachments of various shapes an sizes, each one with a specific purpose. It was said to be able to treat insomnia, gout, carrarah, lumbargo, and hysteria in women. This was the pre-cursor to the modern violet wand which is now used in kink play.
Electro stimulation is still used in medicine today, one example is the tens unit which is used to treat nerve related pain and for muscle rehabilitation. It can be easily and cheaply bought in pharmacies. Modern electro boxes are basically just fancy, kinked up tens units with interesting attachments.
The E-stim 2B
I use the 2B™ Pro Pack by E-stim Systems, it comes with a lot of attachments included to make it easier to start out.One of it's unique selling points is that it has an internal mic so can react to sound. If, for example, I was to spank you you get a shock, if I spoke to you, you would get a shock, if you squeal in pain…well, that ends up being an entertaining loop
My E-Stim attachments
My favorite attachments are these Rubber Cock Loops. I put one at the base of the cock and one around the glans, then switch the machine on. The most popular setting is Thrust, which has been described like someone squeezing the cock. Other settings feel more like pulsing, twisting…
I also use the standard pads, and have an Oxballs Sacksling, although that does not work on all body shapes.
Why I enjoy electroplay with my E-stim
Electro play is great because it's relentless, it doesn't get tired out, and I can just leave it doing things whilst I focus somewhere else. I can sit on my chair and eat delicious chocolates whilst someone writhes in pain at my feet, or I can tease, spank, torture or torment any other part of their body, knowing the sensations are building up.
Another thrill is the fact I am not directly administering the pain so not completely sure how intense it is, I have to carefully read a persons reactions to understand where they are and adjust accordingly. And finally, I can cause massive pain just by twisting a knob, what's not to like about that!
What does E-Stim feel like
The tie and tease was Sir introducing me to new sensations, and the e-stim unit really opened up some new possibilities in play, and a completely unplanned climax which had me emotionally reeling. My next experience with Sir's diabolical toy was all about pain, and control and was even more fun. Sir used the unit, experimented with it, to see what kind of pain effects it could produce, and how much I could take (not a lot!). Sir became interested in producing muscle twitching effects in my leg, and moved the electrodes around to great affect. There was pain, but hearing Sir giggle as she forced my legs to dance was something of a balm.
Sir rests an elbow on my chest, cupping her face in her hand, and looks at me. A cat with a new mouse to toy with, but mesmerised, I forget this is my torturer. The pain returns, in waves, pushing me, pushing my limits. There are sensations of hair being ripped out, flesh being torn, skin being burnt, but it is all illusion. I know it is illusion. But I still scream. Sir becomes fascinated with an effect (a sensation of my legs being forced apart by a large object – also illusionary) and moves the electrodes to a new spot. The experiments start again.
Of the two, pain and pleasure, Sir expertly produced both, and had me writhing helplessly for hours. I would happily revisit both. – M slave
A word on safety
I play safe and take no risks with placement, so all activity will be below the belt. You must tell me if you have a pacemaker, or any other health conditions.
Book an electroplay session in London!
Has all that electrifying talk whetted your appetite? Contact me to book a session and experience the pleasure, and the pain, of my E-stim for yourself.

This page contains affiliate links so I get a small commission if you buy anything from links on this page. I only write about toys I actively enjoy using.