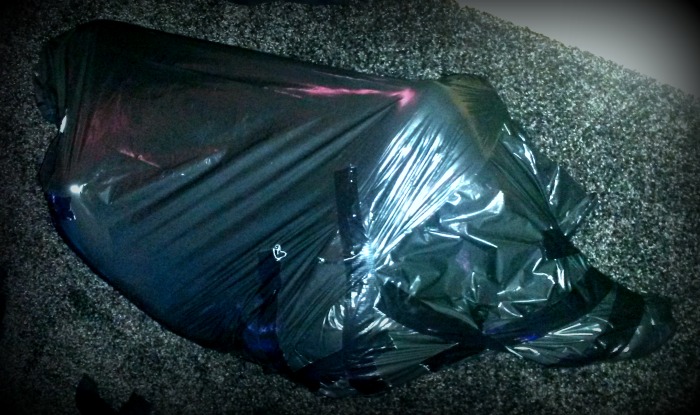 I am a neophile, I love the new and the novel, so one thing that really feeds this is meeting people with unusual fetishes. I love exploring the psychology behind it as far as possible, then watching a person get lost in euphoria with an object I previously didn't look twice at. I certainly don't look at bin bags the same way after indulging in some bin bag fetish sessions.
Learning about a specific bin bag fetish
I've met up with a lovely chap with a bin bag fetish a few times now. The thing that really struck me was the specificness of it. It wasn't about the humiliation or degradation as I initially suspected, nor was it particularly about bondage. It was just for the simple pleasure of the look and feel of plastic bin bags against skin, particularly the thick shiny ones (Marks and Spencers are the best high street stockists I've found).
Bin bag ninja
The first time we met I created a ninja suit for him out of black bin liners. Carefully enclosing his entire body segment by segment, ensuring it fit snugly and securely with gaffer tape.
It was a creative delight to try my hand at tailoring with a humble bin bag, I was almost as rapt in it as his face and other more obvious bodily reactions showed he was. It was also an unexpected pleasure to feel his warm skin through the smooth black plastic. Less friction than the more popular latex, PVC, clingfilm or bondage tape offers.
Sensory deprivation in bin bags
Then there were of course the sensory deprivation possibilities! Touch is already accounted for in the making of a suit as I completely enclosed his hands and feet, but gags and blindfolds, and even hearing distortion are easy to build in.
Exploring sensations through the bag rather than direct to skin was interesting, it added an extra layer of protection so more thud could be created and a little less sting. Then to finish off there was the joy removal! Holes viscously torn at strategic locations, ripping and whipping the rest off, experimenting with which impact implement worked best.
All bagged up
The next time we met we experimented with rolling him in a ball and putting him into bin bags, as you can see in the picture at the top of this page. A pale white body clawing and streching it's way out of a shiny black bag is quite something to see, like a creature birthing itself into kink.
This is the only person I've met with a bin bag fetish, and I love it for it's uniqueness.
Do you have a unique or unusual fetish? I would love to hear about it and explore with you if you do. You can Email Sir Claire to discuss.